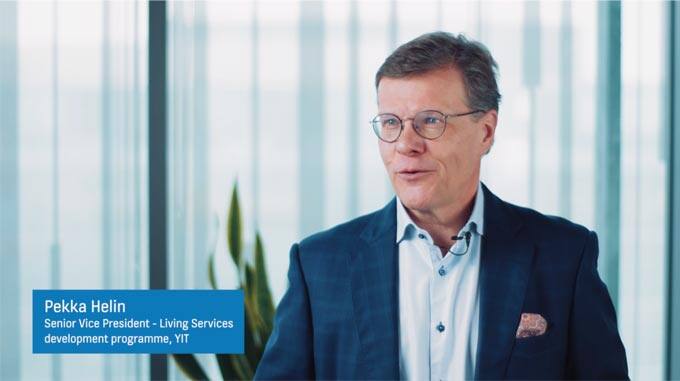 That's exactly the kind of ease of living that KONE Residential Flow promises. Currently being piloted in YIT's residential building at the Kangas site in Jyväskylä, Finland, the solution uses a combination of mobile and cloud technologies to ease the movement of residents within their building. It enables them to operate outer doors, elevators and apartment intercoms through their smartphones.
All this reduces hassle in everyday situations and makes arrivals more intuitive for residents.
"I see that the key factors in the future of living are easiness and convenience," says Pekka Helin, senior vice president of the Living Services development program at YIT. "That's what people are looking for when they consider their homes."
Kangas is the most significant area development project in Jyväskylä, and it will house 2,100 employees and 5,000 residents. YIT piloting KONE Residential Flow at the site shows the importance of digital solutions in adding functionality to future living.
It's not just about tech
Although technology is at the heart of the solution, residents' needs are put first. KONE has ensured this by conducting interviews with over 200 property maintenance professionals, developers and residents to understand the needs and challenges of easy mobility, and then built a solution that is both practical and unobtrusive.
"The most important thing in the apartment is functionality," Helin notes. "That's what we always must offer to our customers. Of course technology has a certain role in providing this, but it must be in the background, because it's not what people are paying attention to."
KONE's Residential Flow is like an invisible brain that pulls the strings of the building's operations. It comprises three packages: KONE Access, KONE Visit and KONE Information.
Seamlessly integrated KONE Access controls building doors and automatically calls an elevator to take the user to their home floor. KONE Visit serves guests and home deliveries, as its connected intercom system allows residents to grant visitors access using their smartphone, even when they're not home.
The KONE Information package is a tool for the community. It enables facility managers to send building-related information to residents' smartphones or the info screens in the elevators or lobby.
Rational and emotional woven together
Smoothing the flow of residents must not affect their feeling of safety. In other words, the solution needs to work – but only for those for whom it's intended.
KONE Residential Flow doesn't only function as the brain of the building. It also forms a part of its heart by being personal to each individual and adapting to their wishes, including keeping them safe from outsiders.
"People want to feel safe and secure in their homes," Helin says. "Home is the place which is your own. You want to feel good about it."
For YIT, the cooperation with KONE is very important. The companies have been partners for a long time, and YIT warmly welcomes KONE's steps into new areas.
Helin is confident that KONE will continue on its innovative path.
"That's how we can build on existing cooperation and move forward together," he says.

Want to know more about Residential Flow and tomorrow's living? Visit the site here.