"I was a bit afraid at first," admits Balasubramaniyan, recalling that day back in 2013. The police were conducting a road safety awareness campaign and asked why, despite the 45-degree heat, this Chennai native was taking such an uncomfortable precaution.
He didn't have to think long to answer. "I told them", he says – "Sir, this is for my personal safety, and apart from that, I work for a company called KONE." He then described the company's no-compromise safety policy to be followed whether on duty or off. He also showed them a couple of KONE's videos on road safety, he happened to have with him on his laptop.
Impressed by Balasubramaniyan's strident pro-safety attitude (and the videos), the police asked him to speak at a public road safety seminar happening the following day. Facing an audience of 150-200, he presented KONE's videos on everything from helmet and seat belt-use to the dangers of using a mobile phone behind the wheel.
SAFETY DNA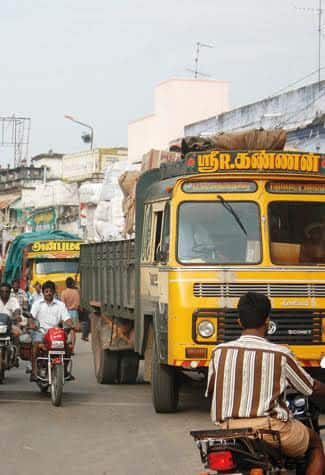 India ranks among the world's deadliest countries for traffic accidents, with one life lost every four minutes. Other statistics are just as staggering: Though the nation accounts for only one percent of the world's vehicles, it chalks up an alarming 10 percent of global road fatalities, or about 240,000 per year according to the World Health Organization. The worst affected area is Tamil Nadu state, where motorcyclists in particular are vulnerable, primarily because of their aversion to wearing helmets.
Balasubramaniyan is a notable exception though. He sets an example wherever he goes by wearing his full-face helmet religiously. The KONE Senior Engineer for Major Projects says he had a safety conscious mindset from childhood. So when he joined KONE, he was glad the company's zero-tolerance policy for safety negligence fit his own worldview. Moreover, he understands the risks at a very personal level – his father-in- law lost his life to a motorcycle- related head injury in 2012.
"Safety should be taken seriously by each and every one of us," Balasubramaniyan notes. "A life should not be taken by this type of lethargy," he adds.
LEADING BY EXAMPLE
Now based in Oman, Balasubramaniyan has noticed improvements every time he returns to Tamil Nadu, with stricter helmet laws in force and billboards reminding drivers to take care because loved ones are waiting at home. Even so, he believes there must be tougher punishments for non-compliance.
Ongoing campaigns by government ministries, NGOs and corporations continue to raise road safety awareness, but as this KONE employee has shown, sometimes all it takes to spark positive change is an ordinary person with steadfast conviction.